2023 Restaurant Menu Trends To Inspire Your Foodservice Operation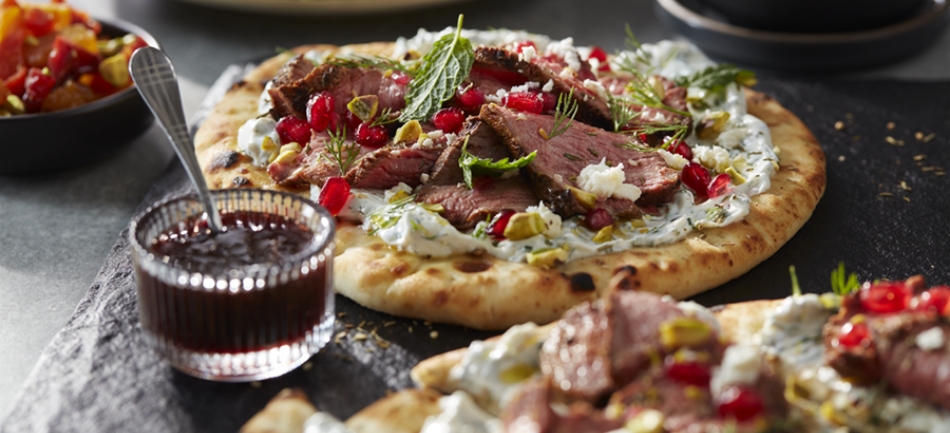 With a new year comes new flavor trends. To get the lowdown on what's up and coming for 2023, we spoke with Chef Christophe Setin about all things trending on menus in the coming year.
Moving Fusion Forward
Korean flavors continue their upward trajectory, with Korean BBQ moving from "Adoption" to "Proliferation" on the menu adoption cycle this year.
1
And with good reason, according to Chef Jean.
"Korean cuisine offers some of the best sweet and salty combinations I have experienced," he said. "With tons of content on social media, consumers are eager to try something new. Korean cuisine is extremely appealing because it is exotic and different, has bright colors and is easy to cook in most cases."
Besides delicious flavor, a strong cultural influence also draws consumers to Korean dishes. "Korean culture has gained popularity in music with the boy band BTS and TV shows such as Squid Game. Interest in food is the next logical step. There is a definite opportunity here, especially with pork, to design and offer pre-flavored and marinated cuts ready to be grilled for BBQ and invent new spice blends in line with Korean flavors."
Korean BBQ is Booming
56% of diners are interested in trying Korean BBQ, the highest for global BBQ.1
Among consumers who have tried Korean BBQ, 76% love or like the flavor.1
Winging It
It's no secret that chicken wings rule the roost. Three-fourths of consumers love or like chicken wings.2 But there's a new challenger for 2023 food trends: pork wings, which are hind-quarter shanks that have been frenched to expose the bone.
As chicken wing shortages remain challenging for operators, pork wings present a more economical alternative with room to experiment.
"Just like chicken wings, they can be prepared in many ways," Chef Jean said. "They're very flavorful because it's a dark meat and easy to eat. There's an opportunity here to offer those already brined and marinated as well."
WHEN PIGS FLY
100% of consumers who have tried pork wings love or like them.2
You read that right!
A Chance of Meatballs
"Meatballs" may not be the first thing that jumps to mind when you think of trendsetting menu-makers. But a closer look would suggest quite the opposite.
Consider Bun Cha, a Vietnamese version of spaghetti and meatballs. Utilizing grilled pork meatballs, rice noodles, fresh garnishes, and nuoc cham (a fish sauce-based condiment), 33% of U.S. consumers are interested in trying Bun Cha.3
Chef Jean concurs, "I particularly love all the spices Asian cuisine offers. They pair well with beer which, with the hundreds of micro-breweries popping up everywhere, could present an opportunity to market pork meatballs with an Asian twist to such establishments."
A (Really) Early Dinner
In the ongoing quest to find new ways to innovate and offer classic dishes, proteins traditionally reserved for dinner are increasingly appearing on breakfast plates.
"While Americans usually view bacon as the staple for breakfast, introducing alternative proteins with exotic flavors is exciting and offers chefs a challenge and an opportunity to further their knowledge."
RISE AND DINE
Some of the fastest-growing sandwich breads include classic breakfast staples like waffles, bagels, French toast, and pancakes.4
French staples like Croque Monsieur, Croque Madame, and Jambon Beurre (ham and butter on baguette) are finding their way on U.S. menus, with Croque Madame sandwiches having seen a 28% growth on menus over the last 12 months.4 Other breakfast breakouts include pulled pork, with 10% growth on breakfast menus over the past year, and barbacoa, with 5% over the past year.5
Filipino Cuisine
Traditional Filipino noodle dishes, known as pancit, are primed to make a splash in 2023.
Datassential reported 36% of U.S. consumers are interested in trying pancit, while 28% are interested in trying Filipino Spaghetti, a common Phillippine comfort food.3
TOTALLY TUBER
Ube, a purple yam popular in the Philippines, is expected to see 144% growth by the beginning of 2024.6
There's also a logistical benefit to adding Filipino flavors to your menu. The variety of types of pancit makes it highly customizable and easy to adapt to food shortages.3
Want to maximize 2023 restaurant trends in your operation? Reach out to Tyson Fresh Meats Foodservice today to start the conversation.
Sources:
1 Datassential Creative Concepts, Next-Gen BBQ, August 2022
2 Datassential Trend Watch, The Protein Issue, October 2022
3 Datassential World Bites, Global Pasta & Noodles, October 2022
4 Datassential Sandwiches Inspiration Report, October 2022
5 Datassential Breakfast Proteins Inspiration Report, November 2022
6 Forecasting the Future – U.S. – 2024 Trend Predictions – Q1 2022 – Technomic