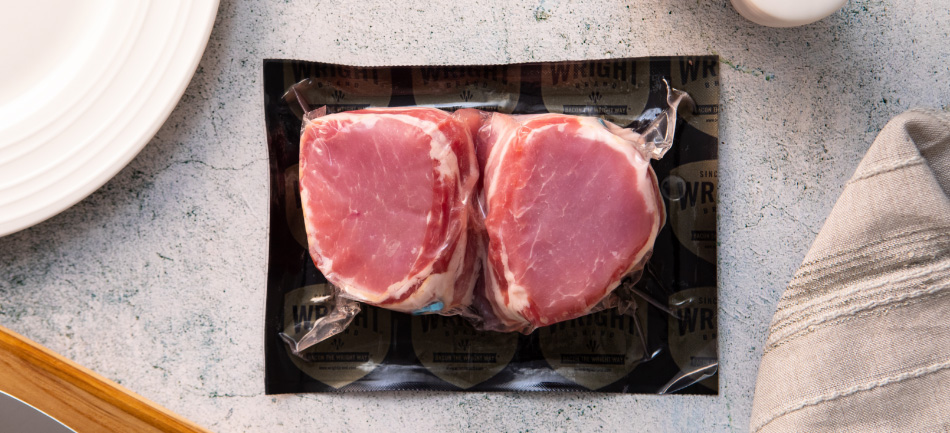 Sometimes it's what's on the outside that counts.
Product quality, consistency and availability are essential, but to write off packaging in today's retail market can be a costly mistake — especially at the meat case.
Here's just a few of the reasons to rethink your packaging game plan and stay competitive in meat sales.
Show your flex appeal.
Eighty-five percent of packages in the meat case today are case ready.1 With that level of ubiquity comes the need to stand apart.
Conventional wisdom says overwrap is the safe bet for consumer appeal. However, a recent study of consumers interacting in real-time with different meat packaging types found flexible packaging the clear favorite among consumers, occupying the top four slots.2
At the bottom: modified atmosphere packaging and overwrap.
"Convenient storage," "leakproof," "ease of handling" and "quality perception" are some of the attributes where flexible packaging overshadowed overwrap's popularity as a familiar, if flawed, go-to.
The up-and-comers of Case Ready2:
Vacuum sealed portions in a larger, resealable plastic bag
VSP (vacuum sealed packaging)
Brick Packs
Roll Stock
Ultimately, shoppers know overwrap and trust it. But they don't like it. Therein lies an opportunity to deliver consumers the small conveniences that make a big difference.
For starters…
Flex and Freeze
In a 2022 survey of shoppers, 61% of beef and 56% of pork consumers purchase and freeze beef "fairly often." Flexible packaging presents the ideal in-road to capitalize on this trend.3
Asked about packaging preferences, roll stock, brick pack and other flexible packaging trended positively in areas like "freezer ready," "convenient storage" and "ideal for thawing/defrosting."
The Cold, Hard Facts
Of consumers who freeze fresh meat2:
repackage the meat before
putting it in the freezer
keep the original packaging but
add additional protection before freezing
do not repackage/rewrap the original
Clean Up That Mess
One thing most consumers seem to agree on: Overwrap = leakage. In a 2020 survey, leakage seen in overwrap was viewed as a "temporary nuisance."2
So why not go the extra step and delight shoppers with a packaging improvement they didn't know they wanted?
Consider easy-peel or tear-notch openings to provide no-mess handling while providing extended shelf-life. It's a welcome, straightforward point of entry to alternative packaging and a potential boost to food waste reduction.
More Than Meats the Eye
Thirty-four percent of consumers believe VSP on steaks implies the meat is high quality, a number significantly higher than any other packaging type. Additionally, 38% believe roll stock packaging for pork is convenient to dispose of in the trash.2
Perception is a significant driver in the shopper experience. Something as small as shifting packaging type can shift consumers' attitudes. By studying the data and trends in your area, this can work to the retailer's benefit.
If you're interested in making your meat case the total package, reach out to the beef and pork experts at Tyson Foods today.
1 Cryovac® 2021 National Meat Case Study
2 Tyson Fresh Meats,Packaging Study, January 14, 2020
3 Tyson Fresh Meats, General Consumer Monitor, Q2 2022