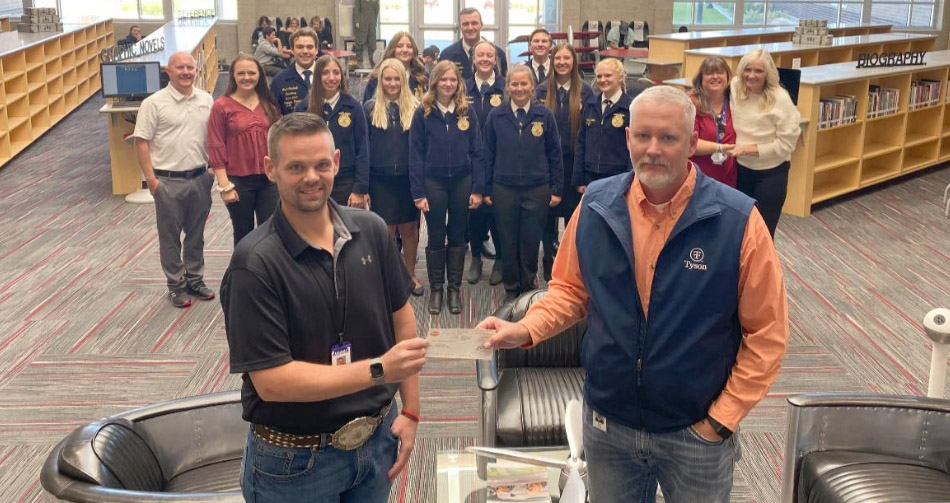 The majority of Tyson Foods' team members work on production lines and many face challenges in accessing basic resources such as housing, transportation, childcare and health care. Challenges such as these not only prevent team members from growing and thriving, but they also impact turnover and absenteeism, which can threaten the stability of the workforce.
As a result, Tyson's community impact efforts emphasize building connections and improving the quality of life in the communities where team members live and work.
Building community ties starts by focusing where Tyson Foods can add value, on leveraging the company's strengths and on generating the most impact from both business and social perspectives.
Some areas of focus include:
Addressing hunger insecurity in communities by Increasing access to protein
Working with team members to address social challenges that disrupt their lives, such as access to housing, transportation, childcare, cultural differences and health care
Improving the quality of life in the communities where Tyson operates
Here is a snapshot of how Tyson Foods' case ready production facilities are making a difference beyond the meat display case.
Making Homeownership a Reality
The Tyson case ready production facility in Council Bluffs, Iowa, has partnered with Habitat for Humanity Omaha to support more than 100 team members who want to buy homes. In 2022, the team celebrated the successful efforts of 30 team members who took part in Habitat's Almost Home program and were able to purchase homes.
"Housing is a hidden problem," Amanda Brewer, CEO of Habitat for Humanity Omaha, told the Nebraska Examiner in August 2022. "When the employer helps, it gets rid of the stigma."
The Council Bluffs production facility contributed $250,000 toward the Almost Home program. In exchange, team members received one-on-one assistance to become mortgage ready through credit counseling and developing savings plans.
"Housing is a hidden problem. When the employer helps, it gets rid of the stigma."
– Amanda Brewer, CEO of Habitat for Humanity Omaha, as told to the Nebraska Examiner
Building a Barn to Support Students
In Eagle Mountain, Utah, the Tyson case ready production facility donated $25,000 to build a barn at Cedar Valley High School so students can get hands-on experience with animal care without leaving campus.
The school, which opened in 2019, currently has a livestock program but animals are housed in a barn that's off campus. Having a barn at the high school will eliminate travel time and will provide opportunities for more students to interact with animals and gain exposure to careers in agriculture.
The donation for the on-campus barn was a natural fit for Tyson Foods.
"Anytime that we can provide something that's going to engage youth in agriculture, we're going to help every way we can," said Tom Sharp, complex manager for the Eagle Mountain production facility.
Working to Eliminate Food Insecurity
Tyson's five case ready production facilities contribute tens of thousands of pounds of protein each year to nonprofits in their communities. The Sherman, Texas, production facility supports Meals on Wheels and Grand Central Station, a local nonprofit. The production facility in Columbia, South Carolina, is a generous donor to Harvest Hope, the state's largest food bank.
Production facilities don't just donate products. Team members from the Goodlettsville, Tennessee, location traveled to Hazard, Kentucky, in 2022 to grill meals for storm victims, volunteers and first responders after floods devastated the community and nearby areas.